When it comes to carrying your quad-copter drone, the right accessory can make your life a lot easier. Find out if that Koozam backpack is the right accessory for your Phantom 4. Gadgets are delicate things to transport. When it comes to drones, the storage solution you choose is utterly important as far as longevity goes.
As you probably know, drones are designed to work outdoors and sometimes in unforgiving terrain. As such, you ought to take special considerations when choosing a transportation solution. A hardshell case offers the best storage but it is not practical in some instances. For instance when going on a short hiking trip, a backpack makes it a breeze to pack and carry your equipment. It saves you the hassle of hauling a case.
A pack allows you to readily access your drone without dealing with locks. It also allows for easy movement as you simply sling it over the shoulder and move. Most packs that are compact enough are easily get airline carry on clearance, which is a huge plus if you frequently travel with your drone. If you need a pack that will make your life easy when carrying your drone, the Koozam backpack for the Phantom 4 might be a good fit.
Overview
The Koozam backpack for the DJI Phantom 4 is a well designed pack that's built for simplicity. On the face of it, the bag's design seems like it has little going for it. However, a closer look reveals the careful attention to detail that went into its design, including a well crafted back frame, comfortable shoulder straps, quality (and almost invisible stitching), and strong zippers.
The Koozam backpack has space for a Phantom 4 plus its accessories including batteries, charger, controller, and other small accessories such as cables. Unfortunately you cannot fit in a whole lot of extra stuff in here. There's no room for a camera as this pack is just not big on space.
That being said, the Koozam perfectly executes its job, which is to carry your drone and accessories without feeling so heavy. You can comfortably carry it on your back for hours and your back will not hurt. Whether you're hiking or biking, the Koozam will not put a lot of your strain on your back. This is especially great for hiking. It's where the bag's lightweight design makes a huge difference.
In addition, the backpack is waterproof and also provides good protection from dust. It will generally hold up well in most weather conditions. That being said, it is not built for extreme weather. The waterproofing can withstand some rain and occasional spillages but it does not protect your delicate electronics in case of an immersion.
Features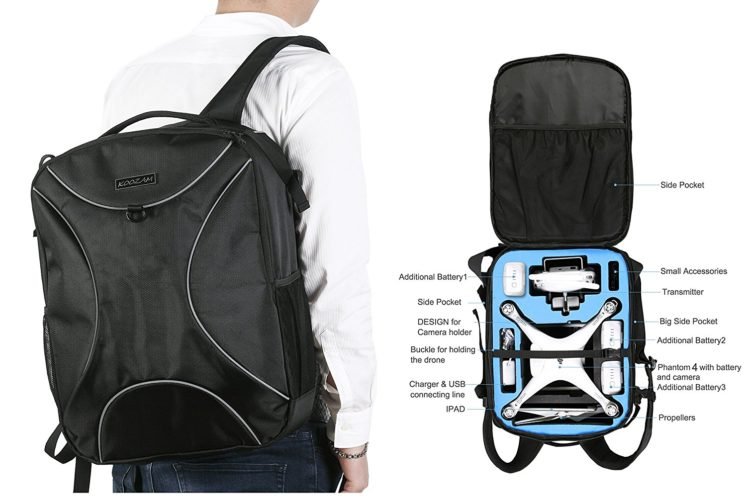 The Koozam is an ultra lightweight backpack that is purpose built for protecting your valuable equipment. To boost security, the pack's zipper is located on the back frame between the straps. This way, the main compartment cannot be accessed before removing the back from your back.
The bag measures 19 inches tall by 16 inches wide by 14 inches deep, and weighs slightly over 3 pounds when empty. A molded foam occupies the interior of the pack. Each of the respective parts has a dedicated slot for storage. The drone fits in the centre slot while the propellers have a dedicated slot just beside the main pocket. You can also fit a tablet in this slot. There's a strap that holds the drone tight in place when fastened.
The other significant pocket is one that holds the controller. There are 3 battery slots altogether and another pocket for the charger and connecting line. The cover has no foam padding so you have to take care and avoid bumps that may damage the drone. There's a side pocket on the cover where you can keep small items such as cables and USB sticks.
Durability
The Koozam is no doubt a quality pack but it doesn't seem like it can keep up with long-term heavy use. For occasional short weekend getaways where you'll be using your quadcopter, it'll definitely hold up for a while. However, if you're going to rely heavily on this pack for grueling travels, you'll be replacing it within less than a year.
Compatibility
The Koozam backpack is made for the Phantom 4 drone series. It fits the Phantom 4 Pro and Phantom 4 Advanced models. Claims from the official product website claim that the pack fits all DJI models although some buyers on Amazon think otherwise. Some users claim that this backpack also fits the Phantom 3 but that is not something we've verified.
Warranty
This backpack, as with all Koozam products, is old in the condition to be used only for the purpose for which it is sold. The warranty may be voided if certain terms are breached. Detailed warranty information is available to buyers.
Wrapping Up
The Kozaam backpack for the Phantom 4 series is ultra light and a breeze to carry. If you're the type of person that spends hours transiting through airports every month, this pack may be the perfect carry solution.
It is an all-weather backpack that you can carry in the rain, snow, or heat as it offers relatively good weather protection. The backpack has foam cushioning on the interior to protect your drone and accessories from damage. It also features enhanced security features to minimize the possibility of theft. It's reasonably priced and as an entry level backpack, the Koozam offers just enough features to safely store your drone while allowing you to carry it on your travels hassle-free. It's also reasonably priced so you will not be splurging on a
If you're a Phantom 4 owner and are fairly active, the Koozam backpack should be in your accessory collection. While there are other options that offer more storage space and more robust features, the Koozam is a great entry level pack for basic drone storage and transporting at a very affordable price.
This Case is Featured on Our Best DJI Phantom 4 Backpacks Article