Whether you are trying to prepare for your new baby, or you just need to replace an ailing diaper bag, it's important to buy the right diaper bag for you. There are big and small bags on the market. Some are full of pockets, while others are essentially large empty sacks. Figure out what you want out of your bag, and you should be able to get the perfect fit to carry around all of your baby paraphernalia.
Choosing Your Bag Material
When you pick out the material for your new diaper bag keep in mind all of the messes it will be around. There is likely to be food spilled on it, formula dropped around it, and an array of other messes. All of this has to be cleaned up, and it's in your best interest to find a bag that is easy to wash.
Bags made out of a sturdy vinyl material are easy to wipe off, and they are resistant to any kind of stains. Although leather or cloth options may look nice, they just aren't as practical or durable as vinyl is. If you do decide that you want a cloth bag, you should make sure it's washable to make it easier to clean after it gets stained.
Deciding on Storage Features
Diaper bags need to be able to store all of the little odds and ends that you like to keep around for your baby. Before you go out and buy a diaper bag take a minute to think about what you will be packing in it. After you have a mental list of the different items to carry around you can decide if the bags have enough storage.
Small Pockets
Pay particularly close attention to the small item storage that the bags have in them. Make sure that you have enough compartments to store all your pacifiers, toys, and snacks that you will need.
Insulated Pockets
If you're planning on carrying full bottles around you will want to look for a bag that comes with insulated pockets built in. These pockets can help keep your formula bottles cool longer so that they do not go bad while you are out and about.  Look for insulated pockets that are completely waterproof to prevent leaky bottles from making a mess.
Extras
Other features that are important are straps to hold bottles in place, sections to store wipes and diapers, and a built in changing pad for on-the-go changings. If everything has its own place in your new diaper backpack you won't be able to fit extras that you don't need and that will help you travel light as well.
At the same time you don't want to get a bag with too many pockets either. If you have a bag with so many pockets that you don't have much empty space left in the bag you probably won't be able to carry everything that you need. Keep your larger items like the wipe case, and clothing in mind when looking at the bag, and make sure that the large compartments are going to be big enough.
What to Put in Your Diaper Bag:
Choosing the Right Sized Diaper Bag
It's tempting to buy the largest diaper bag that you can find when shopping around for the ideal solution. After all, with a larger bag you can stash anything that you might possibly need inside. It's important to realize that larger bags will end up weighing much more when full, than smaller bags will.
If you are the type of person to bring everything you think you may need in the next week, you can force yourself to pack light by getting a smaller diaper bag. It may not seem convenient to have a smaller size to work with, but it will help you keep the weight down. It will also make carrying that pack around much more enjoyable, because it's a comfortable weight and size.
Examining the Shoulder Straps
The shoulder straps of your diaper bag will be holding it up all the time. That means they are going to be the first thing to break in many cases. It's up to you to find a bag with a set of sturdy shoulder straps that are also comfortable, especially for any longer walks that you take.
Look for a set of shoulder straps that are wide and heavily padded. Take a close look at the snaps and stitching holding the straps in place as well. You want a bag with sturdy looking straps, and they will be worthless if they detach from the bag itself.  It's also useful to look for bags that have ties that go around your waist to help take the strain off your back itself.
The Diaper Bag Style
The last thing you have to worry about is the actual style of the diaper bag and whether it fits who will be carrying the bag around. If mom and dad are both going to be using the same bag it may be beneficial to pick out a more neutral bag. If it will just be dad, or just mom then you can feel free to pick out something more specific that you like.
Finding a Reasonable Price
There is no reason that you should have to spend $500 on a single backpack diaper bag, and there are plenty of options that fall below $150 that are made from high quality materials. Decide on a budget that you want to keep your purchase in, and stick to it.  If you are planning on buying a designer bag from a place like Gucci or Juicy Couture then you should expect to spend significantly more for your bag.
Conclusion
Now that you know what considerations you should make when you pick out a diaper bag, you shouldn't be as intimidated when it comes time to make a decision. There are plenty of great options out there, and you just have to find the right one for you. Make sure it has the features you're looking for, has the right look, and is the right size and you won't be disappointed.
Top Recommended BackPack Diaper Bags
Okkatots Baby Depot Diaper Bag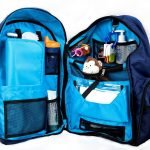 The Okkatots Baby Depot Diaper Bag is a great all-round diaper backpack. A well thought-through design places everything important in reach whenever you need it. The opened back can serve as a diaper changing platform with a soft changing pad, removable wipe dispenser, and space for at least sixteen large diapers. The pack is fitted with an insulated pocket that holds several baby bottles or sippy cups. A well ventilated pouch can keep 2 pacifiers clean and dry and is easy to remove when you need to clean it. A pretty unique feature of this bag is an outside pocket that holds DVD player in place for viewing. When done, simply zip up the compartment to quickly and securely store the DVD player. At 19″ high x 15.5″ wide, this backpack diaper bag is compliant with airplane carry-on baggage specifications.
Baby Sherpa Diaper Backpack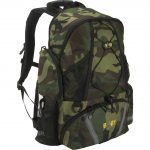 This one's for the dads. The Baby Sherpa Diaper Backpack comes in camo, so now dad can carry the diapers and still look cool! Speaking of cool; this backpack has a soft sided cooler compartment integrated into the backpack to store bottles, snacks, beverages or medication. It's large enough to hold 6-8 canned beverages. It has a modular insulated pocket, big enough to hold large-size brand name bottles. A mesh water bottle holder has been fitted to the outside for easy access. There's an inside compartment with zippered pocket, ideal for those items that you do not remove or use often but need to know exactly where to find when you do need them. Another smart feature is a padded pocket to safely store and carry a video camera or breast pump. Finally, there's a secure, interior parent zip pouch for your wallet wallet and mobile phone and a key clasp so you know where to find them when you get back to the car!
Diaper Dude Diaper Bag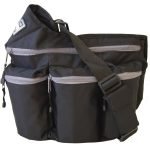 While the Diaper Dude Diaper Bag isn't strictly a "backpack", it's a messenger bag, we're including it in our list because we like it so much. This is another diaper bag that hip dads (and moms) won't shy away from. The bag is made from durable nylon. It sports an ergonomic, across-the-chest; wide, adjustable padded strap which is really comfortable to carry around. The main compartment is a large single space with more than enough room for all your baby accessroies. There are also 3 exterior, zip-closed pockets and an elasticized bottle pocket on the side.