With its ease of flying and its superior camera quality, it's no surprise that you've opted to lay out the money for a DJI Phantom 4 drone. However, you must also remember to invest in a sturdy case to keep your drone protected while you transport it to and from a location.
Our Selection of The 5 Best DJI Phantom 4 Cases:
Your needs will vary according to your requirements and your level of expertise, but – no matter what – camera-fitted drones are sensitive (not to mention expensive) pieces of equipment. We've vetted five of the best DJI Phantom 4 cases so you can ensure your precious machinery stays in tip-top shape between its trips into the sky.
Case Club's waterproof drone case certainly takes some beating. The interior foam is constructed from military-grade closed cell polyethylene – which is not only durable but also easy to clean – and the lid cut-outs feature reliefs for the propellers, ensuring that the props are not bent in any way during storage and transportation. Not only does this feature ensure the longevity of your propellers, but 'prop on' storage also allows for even quicker set up when you get on site.
The case also has a softer egg-crate foam pad that fits just below the drone, supporting the gimbal and camera, so you can rest assured that they are protected from bumping and shaking even during rough journeys. The case has ample room for accessories – including space for a tablet (measuring up to 12″x7″x1/2″), five additional batteries, a drone controller, memory cards, extra propellers and the two (included) re-usable silica gel canisters, which are designed to remove moisture from inside the case.
When the canisters become saturated, you can simply dry them out in the oven and use them again. This handy protection against water damage is extended to the outer shell of the case, which is totally waterproof and dustproof. Precisely engineered to be a 'pick up and go' solution to keeping your drone safe and secure, the rugged Case Club Waterproof DJI Phantom 4 Drone Wheeled Case is airline approved for checked luggage and padlockable. A fantastic option for serious users, offering an excellent compromise between hardiness and ease of use, it is a product that truly lives up to its price tag. Will fit Phantom 4, Phantom 4 Pro, or Phantom 4 Pro Plus drones.
Available at: Amazon
2. Koozam DJI Phantom Case
Koozam's DJI Phantom case option scores big points on the style front, offering a 'militarized' look and feel for your drone and accessories. Featuring an extremely rugged construction, the Koozam Phantom case offers protection from all forms of weather, and can even keep your drone safe in the event of total immersion in water for up to 30 minutes.
It is a great choice for those who know that they will be taking their equipment on a rough and wild journey, as its industrial-grade construction is perfectly designed to resist extreme conditions – offering airtight, dustproof storage. Its thick-shelled and impact resistant exterior means that Koozam Phantom cases can be stacked on top of each other during transportation, and it is a prime choice for shoots where there is no option but to leave the equipment outside and exposed to the elements.
Concerns about the Koozam Phantom case relate more to its internal construction. Although the protective foam is military-grade and the inner compartments are cleanly cut, some users complain that the fit is not quite up to scratch – the drone being slightly 'too tall' (Phantom 3 users) or 'too small' (Phantom 4 users) for the case. Some users worry that this can lead to the drone 'moving around' when being transported. Beyond that, there is limited storage space within the case for other important accessions, such as a tablet, and so you might need to carry these along in an extra bag. Finally, Koozam's case requires that the drone is disassembled before being packed away, leading to slightly longer set up times when arriving on location.
These small concerns aside, the Koozam DJI Phantom case still excels in filming situations where toughness is of primary importance. Will fit DJI Phantom 4 drones, but proceed with caution if you are a Phantom 3 user.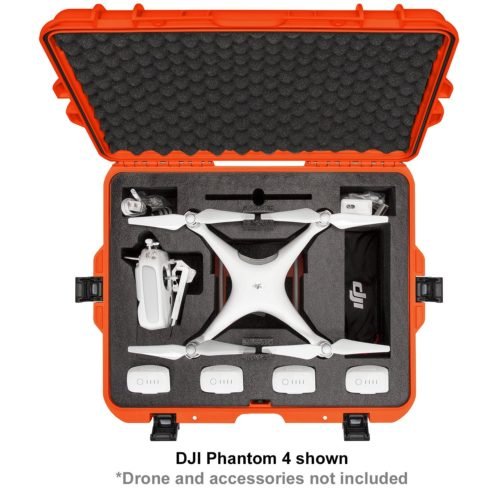 This attractive, lightweight case – available in some cool color options, such as orange and yellow – is actually the celebrated standard Nanuk 945 protective case with a specially cut foam insert to house DJI Phantom 4 drones and accessories. The company has a strong pedigree of designing robust, durable units, and this thick-shelled case is made of impact-resistant Nk-7 Resinare and features a 'Power Claw' latching system to keep everything safely and securely closed when not in use.
Its rounded design and hardy exterior mean that you can easily stack cases on top of each other – an invaluable asset on big projects, or in situations where you have to carry a lot of gear in a small vehicle. Inside the case, the Nanuk 945 Phantom series features a removable polyurethane gimbal sleeve, designed to prevent your DJI from moving or shaking during transport, and many specially-cut compartments for accessories. One issue is that the compartment for tablets only fits an iPad Mini, not a regular iPad or iPad Air – so you might need to take that along in an extra bag.
Nanuk 945 cases are guaranteed for life and are renowned for their ability to withstand small shocks and bumps, but note that this case does not make any promises when it comes to water resistance and dustproofing, so think twice if your next project will require you to set up in extreme circumstances or in places where you might need to leave your equipment exposed to the elements for long periods of time. For those who don't need the weatherproofing trappings, however, the Nanuk 945 case with its specially-cut DJI Phantom 4 foam compartments is a premium storage and transportation option. Will fit any kind of DJI Phantom 4 drone (Phantom 3 versions also available).
Available at: Amazon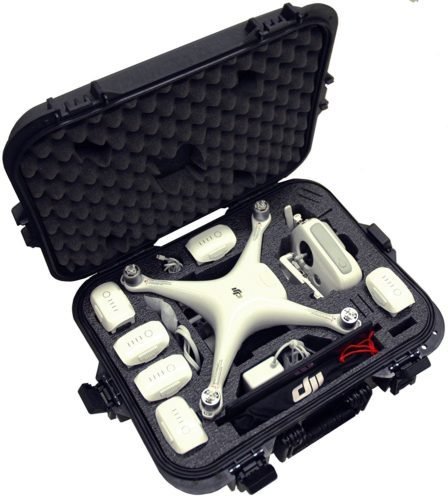 For users who are won over by the wonderful protection and weatherproofing offered by the Case Club DJI Phantom 4 Wheeled Case, but who seek greater portability, will find a fantastic compromise between the two in this Compact version of the drone case. Measuring only 9.2 x 17 x 22 inches and weighing 11 lbs, this robust, durable case can be carted around easily and will withstand public transportation such as air and rail travel. Because of this neat design, the case will not allow you to store the drone with the propellers still attached – but it is nevertheless designed to accommodate plenty of extra accessories.
The pre-cut cell polyethylene compartments hold the quadcopter, a tablet (measuring up to 12″ x 7″ x 1/2″), 6 spare batteries, the controller, extra memory cards and spare propellers. Like the bigger version, the moldings of the Case Club Compact DJI Phantom 4 case are precision cut to ensure that equipment doesn't budge at all during storage and transportation. The shell of the case is made from military-grade polypropylene copolymer and is extremely hardy – and the rugged latching system ensures that the case won't spill open if it gets knocked around. Additionally, professional users (or those who intend on doing lots of traveling with their drones) will appreciate the ability to padlock the case.
Although it doesn't offer the same gimbal and camera protection as its larger cousin – and although it doesn't allow you to store your quadcopter with the prop guard attached – the Case Club Compact DJI Phantom 4 case is still a sleek and stylish option for those who require heavy duty protection for their equipment.
Available at: Amazon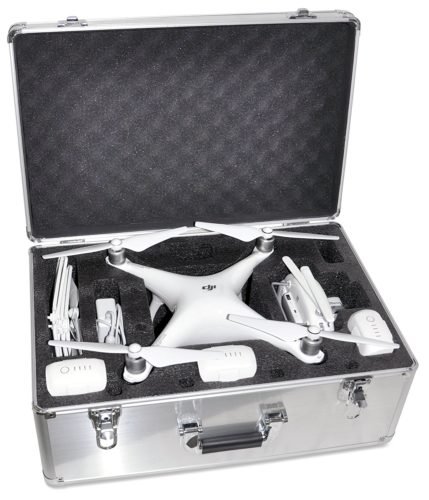 SSE's aluminum option is a solid choice for those shopping on a budget. Sturdily built, the case offers good basic protection through its metallic exterior and foam-cut interior. The custom foam compartments provide space to hold a drone unit, two spare props, a remote, a controller, three spare batteries, and additional room for cables and other small items such as memory cards. It does not feature anything in the way of specialized gimbal protection, as might be expected for the extremely reasonable price.
The SSE Phantom 4 carrying case is, however, airline compliant for carry-on luggage, so is perfectly serviceable for hobbyists and other forms of light-duty personal use. Its boxy, 'briefcase-style' design reflects this case's sleek functionality, though experienced users with highly personalized set-ups might require a little more in terms of accessory space and increased hardiness for tough outdoor filming conditions.
Note that this case does not promise anything in terms of water protection or dustproofing, so be very careful of leaving it outside and exposed to the elements when not in use. An entry-level case that punches above its very reasonable price tag. Will fit DJI Phantom 4, Phantom 4 Pro, or Phantom 4 Pro Plus drones.
Available at: Amazon