The compact Case Club DJI Phantom 4 Waterproof case is the perfect storage solution for hikers, travelers, and adventure lovers. This case has all the features to keep your quadcopter's fragile parts safe and secure.
If you're undecided as to whether you should buy a specially built case for your Phantom 4, simply go ahead and buy it. No doubt it is worth every penny you'll spend on it. A quality case will protect your drone from damage while on the road, which is an absolute necessity considering most drones don't come cheap.
As the proud owner of a new DJI Phantom 4, the Case Club DJI Phantom 4 Waterproof case is the first accessory you should consider buying. In the rest of this post, we detail the features that make this case a must-have accessory for your prized DJI Phantom 4.
Build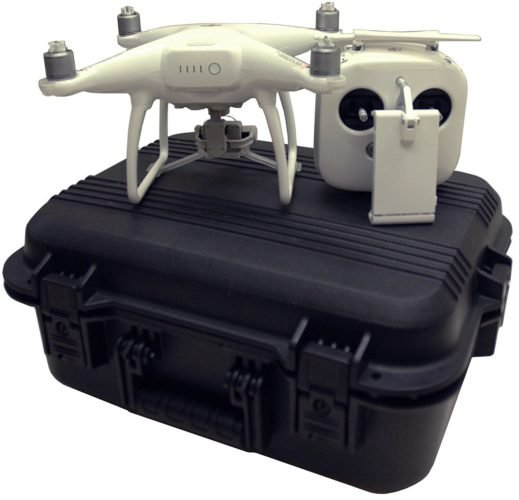 The Case Club DJI Phantom 4 Waterproof case has a compact build designed to be easy to carry, measuring 21 ¾ inches by 17 inches by 9 ½ inches and weighing 11pounds. It's just the right size and weight for its purpose, which is to store and protect your Phantom 4 on the road.
However, it is not small enough for airline carry-on luggage although it's pretty close. There are chances that some airlines will allow it onto the plane but this isn't a given. The outer hardshell is made of polypropylene copolymer, a high-performance thermoplastic material that provides the primary protective function of the case. It's an all-weather shell that protects contents from extreme heat and rain.
The outermost finish on the shell is a dust proof pitch black coating, which seems to be the standard on carry cases of this quality. The case has no rolling wheels but that's not something you'll miss since it is compact enough to carry in one hand.
For added security, the case is equipped with 4 latches that use a push-button locking method. When secured, the latches lock down tight against the rubber seals and there's virtually no chance that the lid will accidentally snap open. Additionally, there are two nifty key locks to ensure your equipment is never under the threat of theft.
Features
When you open the case, it's immediately evident that it is expertly crafted to store a delicate item. The padding that lines the interior is the tried and proven military grade polyethylene foam that is durable and easy to maintain (simply wipe with a cloth to clean). It offers excellent protection from shocks to prevent unnecessary damage.
The padding is carefully cut out exactly right for the Phantom 4 models and accompanying accessories. All the contents fit snug in their slots and will hold in place during movement.
The main pocket fits the drone and is right in the center. There are four battery pockets to the left, one in the extreme right corner and another one just above the drone slot. That makes a total of six extra battery pockets in this case.
The second largest pocket holds the controller and is right next to the drone pocket to the right. The accessory slot is sandwiched between the drone and battery slots. A tablet slot is fitted close to the top side of the case and holds tabs of up to 12 inches by 7 inches by ½ inch. The cover lid has a layer of soft egg-crate foam glued to it to provide upper padding and shock protection to the contents of the case when closed.
A small let down with this case, however, is that your Phantom 4 will not fit with the propellers on. They have a separate slot so you have to detach them before storage. Having said that, this is a small compromise most buyers are happy to contend with given the overall quality of the case. It takes roughly 10 seconds to detach or attach the propellers so for most buyers, it is not essential to get a larger case so that they would store the drone intact.
Durability
All materials used on the Case Club DJI Phantom 4 Waterproof case have proven properties of strength, performance, and durability. The polypropylene copolymer hardshell is the same standard material on most high quality carry cases used to store delicate equipment in other industries.
The military grade polyethylene foam padding on the inside is soft but durable. Its chemical resistance properties allow it to withstand most common causes of rapid degradation. Keeping it from direct sun exposure helps to prolong its life.
Compatibility
The Case Club DJI Phantom 4 Waterproof case is compatible with the Phantom 4 series including the Phantom 4 Pro and the Phantom 4 Pro Plus.
Warranty
Warranty information for this case is included in the package after purchase. It is not available on the seller's page.
Wrapping Up
If you've spent more than $1000 on a drone, it's only wise that you buy it a suitable carry case to protect it. Luckily, there are plenty of options when it comes to drone cases but not everyone will meet your needs.
The Case Club DJI Phantom 4 Waterproof case is designed with the adventure lover in mind. Built for rough terrain and extreme weather, the case offers good all-weather protection. Its shell is heat and dust proof, ensuring that your equipment is not exposed to potentially damaging heat and environmental pollutants.
The interior is carefully crafted to meet current usability standards while providing excellent insulation from aggressiveness. No doubt owing a Phantom 4 series drone is a great feeling but the Case Club DJI Phantom 4 Waterproof case will greatly enhance that experience.
If you are still not sold on the Case Club DJI Phantom 4 Waterproof case then check out our list of the Best DJI Phantom 4 Drone Cases.