Part of the joy of owning a DJI Phantom 4 Quadcopter is the ability to take it with you everywhere you go: to capture special moments in far-off places. Meanwhile, for serious users, the Phantom 4's ease of flying and high picture quality make it a natural choice for professional outdoor filming projects.
However, in order to maximize your Phantom 4's versatility, you need to invest in a reliable, durable case. Camera-fitted drones are expensive, precious pieces of machinery, and you need to find a rugged case to allow you to transport your equipment safely and securely. Especially if you plan on doing extensive traveling with your drone, the importance of a high-quality case for your quadcopter and its accessories cannot be overstated.
Already featured in our review of the 5 best DJI Phantom 4 Cases on the market, here we take a closer look at the excellent Case Club Waterproof DJI Phantom 4 Drone Case.
Build and Specifications
The Case Club DJI Phantom 4 case is built with high-quality materials throughout. The exterior is a sleek black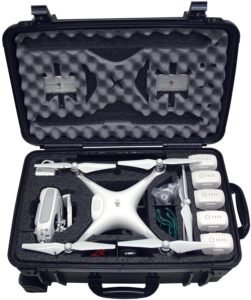 polypropylene copolymer that will withstand shocks and bumps and is more than suitable for public transportation such as traveling by air or rail. Measuring 16.5 x 21.6 x 26.2 inches and weighing just under 19lbs, it's a hefty piece of luggage – though users will in all likelihood find this bulk and weight reassuring, as it certainly feels 'tough enough' to handle any trip. It has a rugged, no-nonsense exterior that promises – and delivers – extreme functionality.
The interior foam is constructed from military-grade closed cell polyethylene – which can be wiped clean, as well as being extremely durable. The foam compartments are precisely cut and the case also has a softer egg-crate foam pad that is located just below where the drone sits. This is designed to support the gimbal and camera while they are in the case, protecting them even during rough journeys. The interior is also spacious enough for serious users with elaborate set-ups, giving enough room to keep many accessories on hand, including room for a tablet (measuring up to a generous 12″x7″x1/2″), five additional batteries, a drone controller, memory cards and extra propellers.
Special Features
Despite its extremely rugged build quality, the Case Club DJI Phantom 4 case also sports plenty of special features that make it a winning choice for the serious drone enthusiast.
In addition to all the room for accessories, its pre-cut foam compartments offer, the case also comes with two reusable silica gel canisters. These are designed to remove moisture from inside the case – a wonderful protective measure for ensuring the longevity of your machinery – and a must for those who use their drones in situations where it is sometimes unavoidable to have to pack the equipment away wet. When the canisters are saturated, simply remove them from the case and dry them out in the oven. When they are dry again, put them back in the case and your interior moisture protection system is fully functional again. These silica gel canisters can go a long way towards preventing rust and preserving the proper working condition of your machinery and accessories for years to come.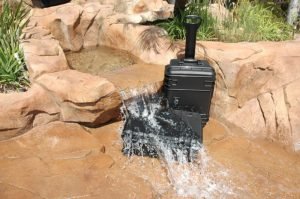 The case is also fully weatherproof – and will keep your equipment dry and dust-free even in the wildest outdoor environments. This is great for situations where it is unavoidable that the equipment will be exposed to the weather for long periods of time, or for projects where it is necessary to set up on or near water. Many cases claim to be waterproof when in reality are only water resistant (at best), but the Case Club DJI Phantom 4 case lives up to this promise, with its copolymer exterior and clever internal design providing an effective barrier.
Finally, easily one of the most attractive features of this case, is the ability to store your DJI Phantom 4 with the propellers still attached. The Case Club DJI Phantom 4 case features special cut-outs in the lid to ensure that the propellers will not get bent or knocked out of shape when the drone is stowed away with the propellers and guard still attached. Although many cases on the market claim to be able to safely store your drone with the propellers on, usually this just means that they have a little extra space in the main compartment – this case, on the other hand, has been specifically designed to accommodate this need without compromising on protection standards. The ability to store the Phantom 4 quadcopter with the propellers attached is a huge attraction to professional users, who need to be able to set up and go in an instant, with as little set-up time as possible.
Usability
The Case Club DJI Phantom 4 case has been designed as a 'pick up and go' solution to your drone transport requirements. It's roomy interior means you don't need to pack extra bags when you head out on a filming expedition, and the ability to store the quadcopter with the propellers still attached is a wonderful benefit for usability. Additionally, its water- and dustproof construction means that you can carry it with you anywhere with utmost confidence.
Beyond these key advantages, the case also sports handy wheels and a pull-up handle bar for easy transportation through airports and the like, and the heavy plastic clasps that close the case can be locked with a padlock. This is fantastic for users who intend on doing extensive traveling with their drone, and want the peace of mind to know that it is safe while it is out of sight. Finally, the Case Club DJI Phantom 4 case is airline approved, meaning you'll have no problem when checking it into the hold.
Finally, the Case Club DJI Phantom 4 case will fit Phantom 4, Phantom 4 Pro, or Phantom 4 Pro Plus drones – meaning you can keep using this extremely functional case even if your drone needs an upgrade somewhere along the way.
Verdict
The Case Club DJI Phantom 4 case is an excellent choice for those looking for a long-term, robust solution to safely transporting their quadcopter. Comparable in build quality to cases manufactured by Pelican, though slightly more affordable, this case will provide years of highly dependable service.
Its copolymer exterior will guard against accidental falls and will withstand whatever the weather has to throw at it. Although a bit on the heavy side, this heftiness means greater durability – and users will be grateful for this bulk if they need to transport their drone via air or rail, where baggage handlers can be notoriously rough with one's equipment. The fact that the exterior is fully weatherproof is also excellent, meaning you don't need to worry even in situations where you need to store your equipment in rough conditions.
The case's interior is equally impressive, with the closed cell polyethylene cut-outs providing convincing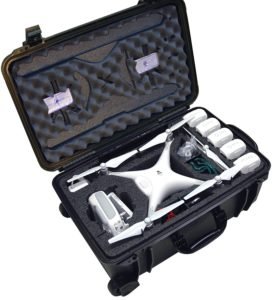 protection for your quadcopter and its accessories. The ability to travel with your spare batteries and propellers, memory cards, controller, charger and tablet in one case is very convenient, and the extra padded support for the drone's gimbal and the camera might add years to your equipment's lifespan. The golden rule with drone cases is that your equipment must not move or jostle around inside the case during storage or transportation, and the precision-cut military-grade compartments ensure just that.
The silica gel canisters are another brilliant touch, removing excess moisture from within the case for those occasions where you need to pack away the equipment slightly wet. For unexpected thundershowers, or for those moments when the schedule dictates there is no time to wipe down the equipment before its time to pack up and go all over again, these canisters address a real concern in an inventive, ingenious manner.
Other finishing touches that maximize usability include the padlock clasps, the pull-up handlebar, and wheels, and – pick of them all – the ability to store your DJI Phantom 4 drone with the propellers still attached. The cut-out grooves in the lid of the Case Club DJI Phantom 4 case are unique – offering a truly safe means to store your drone without the propellers being bent or knocked out of shape. This feature alone might make the different for serious users who need to be able to set up and go as soon as possible when arriving on location.
Built in the USA, the Case Club DJI Phantom 4 case comes with a lifetime warranty – offering that extra level of reassurance before you buy. This case will withstand any beating that might come in its way in the course of normal transportation, and it has enough space to accommodate even elaborate setups with ease. On top of that, it is packed with special features that really serve to maximize the case's usability. If you are looking for a hardy, rugged way to carry your quadcopter around the world with you, look no further than the Case Club DJI Phantom 4 Waterproof Wheeled Case.