Given the multitude of options, choosing the right case for your drone can be a never-ending process of comparing countless types. Find out if the Depstech Protective Carrying Case is the right one for your favorite drone.
State of the art drone gear needs top-notch protection. Needless to say, you should choose your drone carry case carefully.
This DJI Phantom 3 Case has all the hallmarks of a well-rounded entry-level protective case for your drone. Built for mobility and ease of use, the Depstech case offers good protection for the most delicate parts of your drone, thanks to its carefully crafted storage slots.
Lightweight and easy to carry, the Depstech case is designed for hobbyists and professionals alike who make frequent work trips and cannot live without their drones.
In this review, we take a detailed look at the Depstech Protective Carrying Case for the DJI Phantom series.
Build
Measuring just 22.5 by 15.8 by 10.3 inches, Depstech's DJI Phantom 3 Case has a compact build that perfectly suits the busy mobile lifestyle that many drone owners are accustomed to.
The outer shell of the case is made from sturdy polycarbonate material, which is renowned for its high impact strength. The shell is lined with a silver finish on the outside that gives it a sleek metallic look and adds a touch of sophistication to your luggage.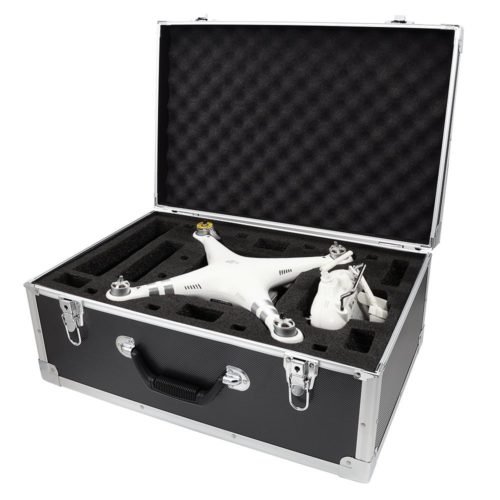 The exterior build is completed with metallic strip linings on the edges of the case, along with metal case corner protectors to safeguard against scratches in case it should fall.
Weighing slightly over 9 pounds, the case is light enough to whisk through airports and lounges without much hassle. Whether you're a thrill seeker or a professional paparazzo, you'll love the fact that the Depstech DJI Phantom 3 Case is easy to carry even when fully loaded with equipment.
Features
Storage is this case's main purpose and the Depstech lives up to its billing in that department.
The main storage area comprises compartmentalized polyethylene foam, which is sturdy and lightweight, and also gives excellent insulation from knocks and shocks.
The compartments are carefully molded according to the sizes of the respective accessories. As such, each accessory fits snugly into its compartment, ensuring that there's no jostling when the DJI Phantom 3 Case case shakes.
The main – and largest – compartment holds the drone in place, complete with its propellers on. The next biggest compartment holds the controller while the last two compartments on the left side of the case hold the charger cables.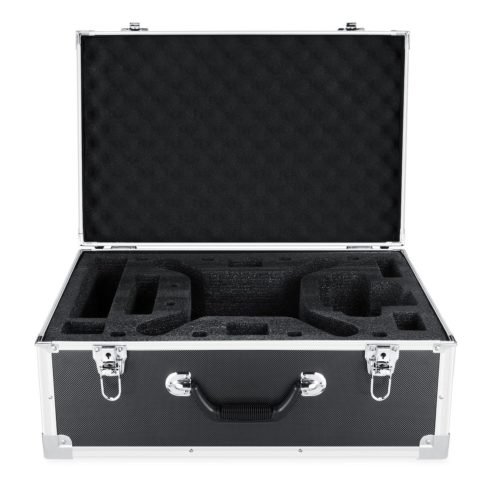 There are slots for the instruction packet, toolkit, as well as extra props.
In addition to the standard storage compartments, the foam moldings have extra slots to hold batteries, transmitter, and other accessories. These extra slots come in handy if you frequently move with additional tools. You can even squeeze a tab into the cables compartment although it might get scratches due to shaking.
The Depstech provides protection from weather and water but will not protect your equipment in case of full submersion or heavy rain. It gives good protection during transits and regular travel but if you're going to work out in the field in harsher conditions, you may not get the full weather protection needed. Take the necessary measures to get water protection for your drone.
Security-wise, the case comes with a pair of locking latches complete with their keys to minimize the possibility of theft, but based on various user reviews, they seem a tad weak to provide optimal security. That said, if you're carrying a $2000 drone inside this case, you ought to take extra precaution to ensure its safety regardless of whether the locks are secure enough or not.
Durability
As mentioned earlier, the outer shell of the DJI Phantom 3 Case comprises sturdy polycarbonate material. While it offers excellent protection against impact, it will start to wear with time.
With proper care, the case should hold well for at least 12 months, at which point you should think of upgrading.
For entry level drone protection though, this case should last well over one year. With less frequent use, it should go well over 2 years.
Compatibility
The Depstech Protective Carrying Case is built for the DJI Phantom Series and is compatible with the Phantom 1, Phantom 2, and Phantom 3 quadcopters.  The Phantom 4 Pro will fit a little snugger but you should find a more compatible option for it.
The case does not fit the Phantom 2 V+ so you should find a compatible case if that's the model you own.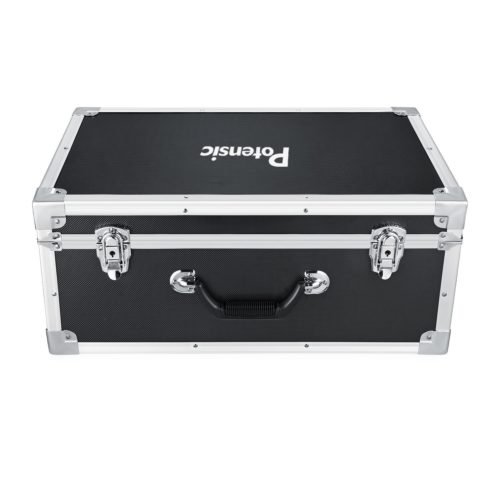 Pricing
This DJI Phantom 3 Case is averagely priced – tending to the lower end of the scale. This doesn't mean that its quality is questionable but it certainly does not come with high-end materials. For the price though, there's no doubt you get value for money. The Depstech is definitely a good option ifyou're buying on a budget and don't intend to do a lot of grueling travels with your drone.
Warranty
If you have doubts about how this case stacks up on the quality scale, take comfort in Depstech's worry-free 1-year limited warranty. Depstech's customer support is on hand when you need it, either via Amazon or directly via their email that's enclosed with the case
Wrapping Up
This Depstech DJI Phantom 3 Case offers more than just a storage box for your drone. It is a capable travel accessory for your toolkit.
Compact and lightweight, the Depstech is made for frequent travelers, whether you're a hobbyist photographer or professional photojournalist.
The case's compartmentalized foam interior holds your delicate equipment in place and also provides room for all your extra DJI accessories.
That said, the case is not built for harsher conditions and extreme weather protection. You might want to reconsider if you're going to work in a desert or in places that are generally rough and tough.
Overall, the Depstech Protective Carrying Case offers a great balance between price and practicality. If you're looking for a reliable case to keep your drone safe on regular travels, this Depstech DJI Phantom 3 Case is an excellent choice.
This Case is Featured on Our Best DJI Phantom 3 Cases Article