Fancy a stylish & portable backpack cooler to take on your next outdoor adventure? Look no further than the ICEMULE Classic insulated cooler backpack. It's one of the pioneers of the hands-free soft cooler designs that introduced a world of convenience to many trekkers.
After weighing the disadvantages of the conventional cooler, ICEMULE decided to introduce a unit that's not only softer but stronger too. Naturally, because of the comfort it offers, the soft cooler became an instant hit. This opened a lot of doors to similar designs and now the options are endless. But what made this cooler stand out from the rest? We'll discuss its specs in detail below.
Why we like it
This is literally one of the world's coldest coolers – plus its hands-free! It ticks all the right boxes where portability and performance are concerned. Here's why: Picking this brand means you're guaranteed your refreshments and beverages are kept ice cold throughout the day. This is because these coolers utilize various methods to keep drinks cold. First off, it has their unique PolarLayer Insulation. This foam allows for superior ice retention. In addition, it utilizes the 'TriFoldDriTop' system, where the foolproof seal is designed to keep the ice in and air out.
And the best part is that only ICEMULE coolers allow you to add air for extra insulation. This is made possible by their IM AirValve system, which is designed to increase the cooler's insulating abilities.
Key Features
Performance
The main difference between this cooler and every other cooler is its unique and innovative design. Unlike most coolers, its huge drawing card is it's designed utilizing the Icemule closure system free of zippers. This roll top design automatically makes it a lighter and hassle-free option. You don't have to go through the cumbersome zipping and unzipping process to access your items.
Apart from making it easier to load & unload, this system eliminates the leaking zipper common with most conventional coolers. Additionally, because of its zipper-free design, it easily floats on the water. This makes it ideal for your watersports trips. Another reason why you can freely use it in water environments is that it's entirely waterproof. This is thanks to the seams which are welded to keep the water out. Convenient, right?
We'd however highly recommend using cured ice with this cooler rather than wet ice. Sure, you might pay a little extra but the advantages are well worth it as the ice will be frozen for longer.
Build Design
Tired of bulky cooler boxes? You'll appreciate that this cooler backpack features a space-saving design. When not in use, it's fully collapsible which makes it easy to store.  Simply roll it up and you're on your way. This is thanks to their IM AirValve system which allows you to release air, thereby deflating the cooler.
The exterior fabric looks deceivingly weak yet it's extremely sturdy to keep contents securely packed and protected inside. This outer layer is twice as thick as the other soft coolers on the market. The material used to make the outer layer is also easy to clean so maintaining it will be a breeze.
You'll also appreciate the interior layer, which features a rugged shell. Not only is it tough but it also allows for impressive ice retention. This inner layer is leak proof to keep any leaks at bay. All you need to do is make sure you fill it to capacity. Only then does it seal well – eliminating any possible leaks.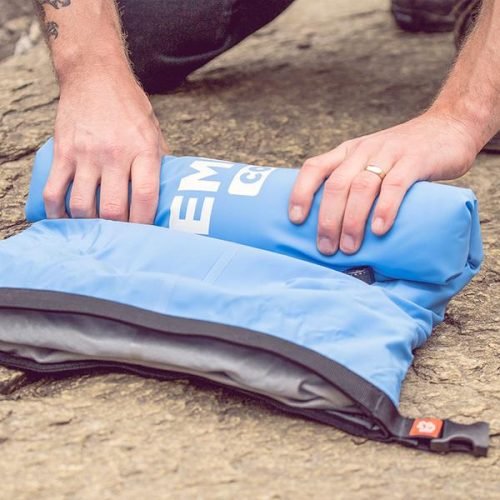 Aesthetics
You've got to love the range of five unique summer colors it comes in, designed to brighten up your mood (or outfit).
This cooler has quite an attractive design and is available in four different sizes to suit your needs at any given time:
Large
The biggest size is relevant if you want to carry a large
number of items. It can accommodate up to 20L or
about 18 cans + ice
Medium
The medium sized cooler backpack can hold up to 15L or
about 12 cans plus ice.
Small
For the quick day trips, you can simply pick the small size.
It has a capacity of 10L - about 6 cans plus ice.
Mini
The mini has a 9L (about 6 cans plus ice) carrying capacity,
which is perfect if you want to carry a couple of snacks
and drinks for a picnic.
Regardless of the size you pick, know that you're guaranteed the same quality materials present in the rest of the collection.
Comfort
For your carrying comfort, the cooler features shoulder straps which are double padded to reduce any discomfort when carrying. The straps are also ventilated to further increase your level of comfort during your excursion.
This backpack style cooler allows you to strap it comfortably on your back. As a result, your hands are left free to carry other items, which we find convenient.
You also don't have to worry about any shoulder fatigue – thanks to the straps which are double-padded and well-ventilated. It also features a distinct air valve that increases the insulating ability.
The only thing we would change on this cooler is perhaps adding more rings on the outside of the bag so you can attach more tie downs. As is it only comes with two. This means trying to attach it to another bag can be pretty challenging!

What We Like:
Portable
Compact size
Zero leaks
Ideal for traveling
Collapsible
Waterproof
Easy to store
What We Don't Like:
Durability questionable
No storage pockets
Conclusion
While it's extremely effective at keeping drinks cold, we can't say the same about its durability in all scenarios. Some customers have noted that it is easily punctured. Additionally, as it doesn't have any extra pockets to store small items such as keys, it's less convenient in design than some other backpack models.
Overall, we love the practicality this cooler offers. You have the option of picking a size in line with your needs which is convenient. Also, it can handle a number of environmental conditions from dry to wet – which is very useful. While it may not be the most durable cooler on the market, you'll agree nothing beats the versatility of the design and the range of different sizing options.