As a student, I have found that a decent-sized durable backpack is not an easy thing to find. I have often felt that in order to achieve success in one aspect of the bag, a sacrifice must be made elsewhere. My research led me to the Jansport Big Student Backpack Classics Series Daypack, which as the name suggests, turned out to be the perfect large student bag for me.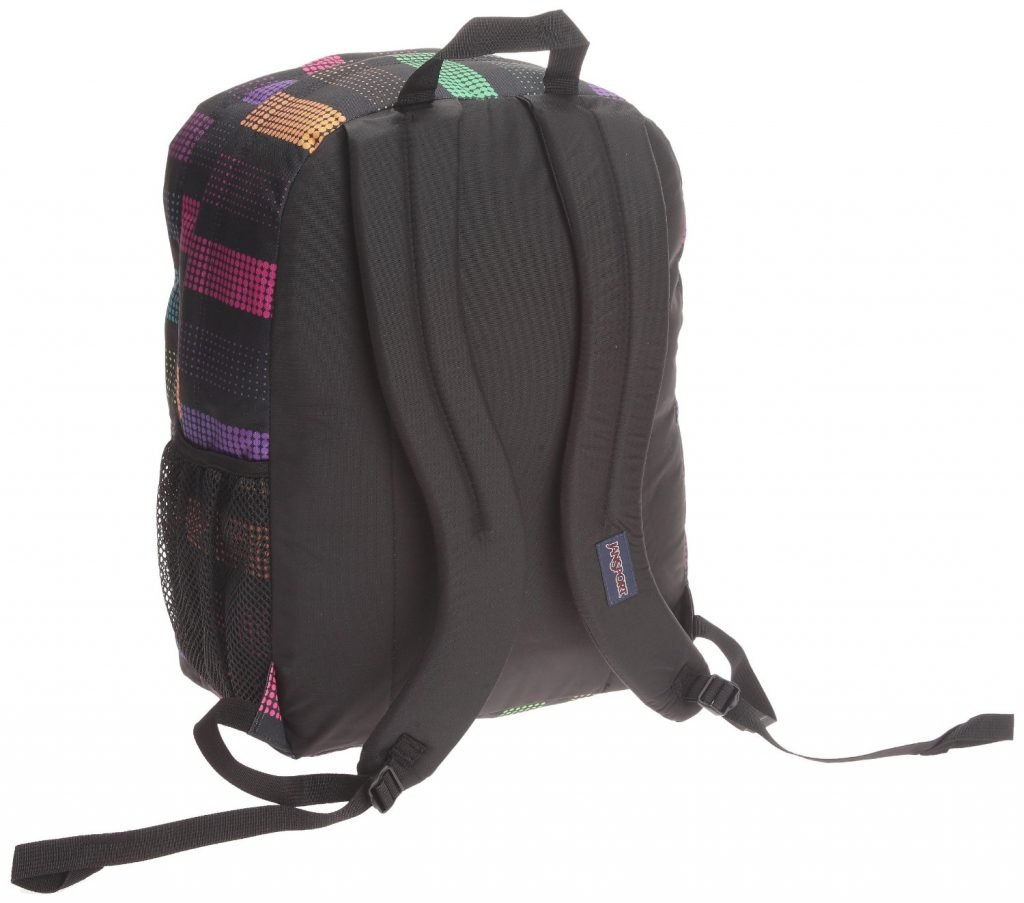 Requirements for a Successful Backpack
For anyone who is or was a student, it is not difficult to identify the main aspects that you should look for when considering which the best daypack is. These are:
Large capacity and enough compartments
Durability
Comfort
Style
In my opinion, the Jansport Big Student Backpack Classics Series Daypack meets these requirements rather effortlessly. Let me explain how.
Will it Hold All My Books and Supplies?
The size specifications for the bag are as follows:
Capacity: 2100 cubic inches/31 litres
Weight: 1 pound, 8 ounces
Dimensions: 17.25 x 13 x 10.125 inches
These numbers may not mean much to you on paper, but in practice this means that the Big Student backpack is fully capable of housing everything you should need. The two main large, zippered compartments allow you the option of storing your laptop in one, and your books in the other, thereby keeping your belongings separate and organized. It must also be noted that each of these compartments has two zips, allowing you to open them from either side; this easy access comes in handy more than you would think.
Some more versatile storage space includes two zippered front stash pockets, as well as a front utility pocket with an audio electronics organizer. The organizer really is invaluable because it has separate pockets for pens, cellphones, MP3 players or calculators, which means that you won't lose those smaller items in the larger pockets.
A mesh side pocket on the one side is perfect for something that you need quick access to, such as a water bottle.
Will My JanSport Big Student Classics Series Daypack Last?
With all these fantastically helpful compartments for all your books, files and even gym clothes if that tickles you fancy, you need to know that your bag will be strong and durable. Since you want to hang on to it for quite some time to come, you also need one that will last.
The fabric used for this daypack is 600 denier polyester, which is popularly used in the manufacturing of luggage because of its strong and durable properties. Although this material would be considered heavy-duty, it is still light, and does not look bulky. In fact, you will notice quite a smooth finish.
Polyester is also a fabric which repels water, so if your JanSport school backpack gets wet, you will notice that it will dry relatively quickly. Also, if you spill any liquids on it, it should be easy to soak up with a cloth, rather than having it seep right into the fabric.
Can You Actually Carry it Around All Day?
Yes, you can. The main problem with such large capacity backpacks is that once filled and carried on your shoulders, the straps often dig into your shoulders, causing a lot of discomfort. The stress caused on your back by this really could lead to more serious problems later on.
JanSport has easily solved this dilemma with ergonomic S-curve shoulder straps. These straps are designed to fit the contours of your body, and this is achieved by the use of high-quality EVA foam, as it is very easy to mold. This will relieve you of any physical stress on the back caused by your heavy schoolbooks. These straps will also ensure that the weight is evenly distributed across your back, once again relieving tension.
The back panel is fully padded, so your bulky binders or laptop computer will not pierce your back all day long as you move along to your classes. The back panel and straps also work in conjunction to increase air circulation.
Does it Look Good?
This is by no means a superficial question to ask. The style of a backpack is often overlooked or compromised for strength and durability, but not here. The JanSport Big Student Classics Series Daypack is available in over 30 different styles, ranging from a tie-dyed pattern for the hippies, to a Zebra print for the more adventurous. There are of course more subtle options to choose from, such as plain black or blue. Just remember that you should expect to keep this bag for a few years, so make sure that you pick something that you really like the look of. After all, you will be seeing this daypack almost every single day, especially if you want to use it out of the school environment as a gym bag for example.
How About a Warranty?
JanSport is confident about the durability and reliability of their products, so you have a guarantee for life. The warranty covers defects in parts or workmanship, and they will repair or replace your backpack if you send it to their warrant service centre.
But Don't Just Take it From Me
These are some of the comments which caught my eye:
"I absolutely love this bag, it has many pockets, and has so much space!"
"Very happy with my purchase!"
"I would recommend this product in a heartbeat."
"Outstanding product!"
Any Bad News?
Of course you will always find the odd negative comment when reading through so many reviews, but bear in mind that they do not always reflect the majority. I did find a complaint regarding "stiff shoulder straps", but this should be expected for straps which are designed to be strong and able to carry all the weight. A fellow reviewer noted that the straps simply need to be broken in a little and will soften over time and usage.
Where to Buy This Backpack
You could purchase it online via the JanSport website, or you could find a retailer in your city, also via the website.
However, I would prefer to buy it via Amazon.com, because, as previously mentioned, there are no shipping fees, and therefore no hidden costs.
Read Some More Reviews if You Don't Believe Me
The more information you have before making a purchase the better. So feel free to read some more reviews about the JanSport Big Student Classics Series Daypack on Amazon.
Summary
Reviewer
Review Date
Reviewed Item
JanSport Big Student Classics Series Daypack
Author Rating