Michael Kors is a popular fashion brand of the modern times. From bags and watches to designer jackets, Michael Kors has made a persistent mark in the fashion industry. A laid-back and classy backpack will always come in handy for your travels. Whether you're getting ready to join a new school or getting ready for a weekend trip, a backpack will help you travel in style. Michael Kors backpacks are trendy, functional, and perfect for a 'staycation'. This Michael Kors Rhea Medium Backpack is leather excellence that will let you carry your essentials in style! This sleek silhouette is an everyday travel staple for a trend-right look.
If you're looking for a backpack with edgy personality and oodles of chicness, then this Michael Kors backpack might be the one for you! The premium leather, gold-tone hardware, and self-color stitch trim lends this backpack a unique look that makes it standout from the crowd. The creative "mid-zip" and sturdy leather straps add more value and class to this startling backpack. This modern day-to-day backpack will house your essentials such as your tablet, makeup, sunglasses, water bottles, and other daily essentials.
This backpack also features on our list of the 10 best mini-backpacks of 2018.
Leather
This Michael Kors backpack is made from 100% pure cowhide leather that delivers a soft and elegant touch to this bag. This type of leather is highly durable, flexible, and resistant to most scratches and tears.


The earliest record of leather goods is in 1300 BC. Since then, the leather industry has evolved in techniques and uses of this material. Leather has always been an eternal part of the fashion industries around the world. Leather bags were always related to quality, elite fashion, and resilience. Michael Kors brings back the fundamentals of leather, blended with artistic creation and designer arch. Needless to say, this bag will last for a lifetime!
Design
Let's talk about the interesting design of this Michael Kors Rhea Medium Backpack. The design has two main compartments with gold-tone zippers. You can house all the large essentials like gadgets and books in one spacious section. The front-top zipper opens a smaller section of the bag, where you can throw in your go-to items like your mobile phone, charger, sunglasses, etc. Now moving on to the interesting part: the mid-zipper design. This is a gold-tone zipper with two pulls that opens like a breeze and comes in handy for quick travels. You can store smaller items like lipstick and balms, or even deodorant, in this part of the bag. Thanks to the useful tabs on the zippers, you can open any zipper with ease. The delicate leather shoulder straps deliver a feminine take on this enduring design. They are created to equally distribute the weight across your shoulders, so that you can carry heavy weights without breaking a sweat. You'll love the shining attributes like 100% coated twill and gold-tone hardware of this bag.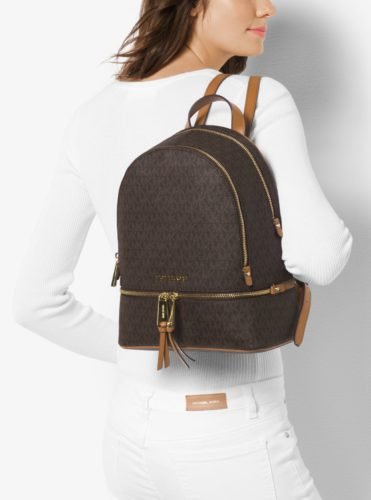 Interior
Just like the exteriors, the inside of a bag also plays an important role in determining its overall durability and value. This Michael Kors Rhea Medium Zip Backpack has a 100% polyester interior. In may cases, the weight of the items inside the bag can tear the top ends of the inner lining, revealing the background. Michael Kors have, however, ensured that the lining is made from a polyester that is stitched firmly into the leather so you can throw your large items inside the bag without worrying about damaging the lining. This bag is designed to withstand daily use, which includes the inner linings and zippers.
This Michael Kors backpack has two main compartments and one smaller compartment on the front. On the inside of the bag, there is a small zipper that can hold your cash, credit cards, passport, and other important items that you want to keep hidden. Overall, the interiors of this backpack include one padded iPad pocket, one zip pocket, and one key fob.
Colors & Designs
Apart from amazing design, high-quality material, and impeccable interiors, this Michael Kors backpack is available in various vibrant colors. You can choose from hot pink and metallic quilted-leather to pale blue, soft pink, and black. You can also get this amazing backpack in the Michael Kors monogram leather. Every color, every design, and every feature of this Michael Kors Rhea Medium Zip Backpack tells a unique story. Match them all with your everyday look and explore the world with a reliable and fashionable bag on your back.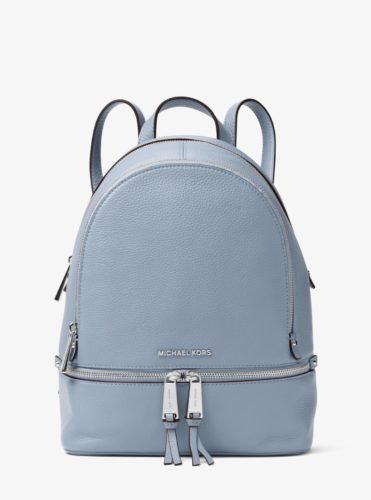 Conclusion
Fashion enthusiasts will be thrilled to get this adorable and trendy Michael Kors backpack. For the practicality seekers, this backpack can offer a lot more than just being stylish. It is durable, resistant to scratches, and made from premium leather that will add elegance to your look. The spacious interiors can securely hold your items and the padded pocket will keep your gadgets safeguarded. This Michael Kors Backpack is certainly an intelligent investment for your wardrobe. It will last for a lifetime and will become your trusted companion in all your travels.
Summary
Reviewer
Review Date
Reviewed Item
Michael Kors Rhea Medium Backpack
Author Rating