Are you looking for a large and durable clear backpack? We're here to offer a solution. This Smarty Heavy Duty Clear Backpack might be exactly what you're looking for. Whether you're planning on going for a family picnic or you're simply a student who needs to comfortably carry many books, this is for you. There are days when you want to travel light. But some occasions warrant you to bring out the bigger bag—and that's where this large backpack will come in handy.
So why pick this Smarty Co backpack rather than other available models? Only because it's rated one of the best backpacks on the market. Plus it comes with a money back guarantee.
Is this an investment you might consider pursuing? Have a look at our in-depth review as we discuss the features that make this backpack a must have.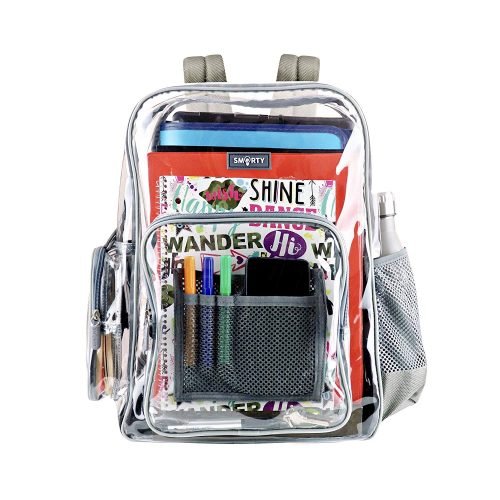 Who is it For?
This large backpack is designed specifically for persons who require a backpack with a clear, transparent design. This is because learning institutions require their students to carry clear backpacks. But note that because it's very large, it's ideally suited for taller students as well as adults. If you're looking for a backpack for your younger kids then this product may not work.
Also, certain security personnel may be required to carry backpacks with clear designs so that all their contents are visible. Correctional officers and Airport TSA personnel are among the list of professionals who'll find this bag handy.
Design & Construction
Forget the backpacks made of flimsy clear plastic. This brand is made of heavy-duty plastic that's designed to last. Made of clear PVC material, this Smarty Heavy Duty Clear Backpack features a custom-designed blend that's 55% thicker than other brands. And for added reinforcement, the bag is stitched three times with military grade nylon fabric.
The shoulder straps and bottom lining are also made of rugged military grade nylon with a 1680 denier rating. This attests to how strong the bag is so it won't wear out any time soon. Though the material is very strong, you'll be impressed by the surprisingly soft feel.
Apart from its practicality, you can still make a fashion statement with this backpack thanks to the clear design which is currently trending. This makes the bag also ideal for stylish trendsetters.
Note that the backpack is available in a variety of four trendy colors so you're bound to find one that suits your taste and style.
Comfort
You'll agree that comfort is among the first things you consider when purchasing such a large backpack. Can you carry it on your back for hours on end without experiencing any discomfort? Smarty decided to take care of your comfort concerns by ensuring that the shoulder straps aren't only thick but double padded.
Size
The dimensions of this bag are 18.0" x 13.0" x 6.75". You can tell that it's big enough to accommodate most of your bag contents whether it's for studying, using it as an overnight bag or many other applications.
Storage Pockets
The bag features a compartment sleeve which can accommodate a 15" laptop. With large backpacks, it's not uncommon for people to simply throw items inside the bag haphazardly given its ample space. The real problem comes when you want to retrieve a specific item.
To avoid the frustration of looking for your items, the manufacturer included a mesh organizer. In this compartment, you can store your smaller electronic gadgets and items like pens and calculators. You can even slip your mobile phone into this same compartment to keep it safe.
You'll find a zipper pocket ideally suited to place all your valuables like your keys or money. And you'll appreciate the tall water bottle pocket that's designed to ensure your bottle is tucked securely inside your bag, without its contents accidentally leaking onto other items.
Security
The last thing you need is for your bag contents to fall out because of a flimsy zipper. That's something you don't have to worry about if you pick this model that features an upgraded strong zipper. The manufacturer also added rubber pullers for added security reinforcement.
Price
The Smarty Clear Backpack Heavy Duty Clear Backpack doesn't come cheap when compared to other clear backpacks on the market. However, for its durability, performance, and style this bag offers, it's worth every penny.
Warranty
The bag is covered by a 180-day money back guarantee when purchasing directly from the manufacturer's website. Smarty Co also offers free replacements within 90 days when purchased on Amazon.
What We Like:
Many storage compartments
Spacious
Durable
Solid construction
Attractive design
Available in a variety of colors
Comfortable padding
Final Words
Overall, this is a high-quality backpack that's designed for long term use. It's the ideal backpack to pick if your child requires a clear backpack that's durable. This bag is designed to withstand a considerable amount of wear and tear. We're also impressed by how comfortable it is to carry thanks to the padded straps.
Sure, it's rather expensive compared to the ordinary backpack, but it's very sturdy which makes it a worthwhile investment. And because it comes with a money back guarantee, you can always return it if you're not entirely happy with the product. Instead of replacing your child's cheap and flimsy backpack each semester, why not invest in the Smarty Heavy Duty Clear Backpack instead?