The Vaschy Anti-Theft 17-inch Laptop Backpack is a convenient option for travel, school, and business. It is easy to organize for everyday trips or outdoor activities with its three separate compartments and multiple pockets. The backpack is equipped with an anti-theft design, USB charging port, headphone opening, comfortable padding, and a water-resistant finish. The backpack can house anything from a 17-inch laptop, books, or even clothing within its spacious 24L capacity – making it an ideal choice for many.
Why Is the Vaschy Brand a Popular Choice?
Vaschy backpacks are a popular option for both adults and children. They provide practical backpacks which are stylish and durable. Made from high-quality materials and sophisticated fabrics, most of their backpacks come with a standard warranty and offer special features such as water-resistance, insulated pockets, as well as vegan leather.
The Vaschy Anti-theft Laptop Backpack does come with a one-year warranty, giving you peace of mind in quality – at an affordable price. Vaschy warranty policy a hassle-free 'replace, refund, whatever-it-takes' guarantee for customer satisfaction.
Specs
12 x 6 x 20.4 inches (H x W x D)
Adjustable shoulder strap:
Product Features
Three main compartments enclosed by double zippers.
One small pocket at the front.
One zippered secure pocket at the back
Several mesh compartments. Ideal for small accessories such as iPods, phones, and chargers.
Made from a water-resistant polyester material.
Comfortable shoulder straps and back features a breathable cushioning and support.
Adjustable shoulder straps for a comfortable, custom fit.
Two adjustable elasticated mesh pockets on each side for water bottles, compact umbrellas, etc.
Two anti-theft buckles on either side of the backpack to prevent zippers from being opened.
Luggage belt at the rear of the backpack.
Built-in USB charger.
Side headphone opening
Design
The Vaschy Laptop Backpack is black in color and made from a durable, water-resistant, polyester material. The finish is shiny and smooth, without feeling irritating on the skin. It has a red reflective lining on the front of the backpack and on the zips, which illuminates in the dark, making you visible to oncoming vehicles. The backpack is light in weight and provides all the necessary functions needed for everyday activities. Measuring 12 x 6 x 20.4 inches in dimension allows for easy travel and comfortable storage when resting the backpack inside airplane luggage compartments, putting it beside you in class, or carrying it on public transport. There are three compartments, supported by a double zipper closure on each side, and two additional pouches at the front and rear of the backpack.

Exterior
The front of the bag has a small zippered pouch which can be used to keep minor things such as stationary or snacks. On both sides of the backpack, there are anti-theft buckles which prevent the three main compartments from being unzipped. The anti-theft system serves as a good idea for those who travel on public transport or walk in busy areas, deterring thieves and preventing your belongings from being stolen without your knowledge. Finally, there are two mesh pockets on either side of the backpack featuring elastic pulls to tighten the opening of the pockets. These are ideal for storing items such as water bottle, snacks, or even a small umbrella.
The rear of the backpack has a zippered section and luggage belt. The luggage belt can be attached to your rolling backpack, literally taking the weight off your shoulders when a long journey is ahead. The Vaschy Laptop Backpack would, therefore, be a great idea as a carry-on for everything you would need in-flight.
The back padding is soft and allows for ventilation while traveling in the heat. Students who carry heavy textbooks will be pleasantly surprised at the back support. The back support makes trips between classes and across campus more manageable. The shoulder straps are adjustable, allowing for a custom fit, and also feature breathable cushioning.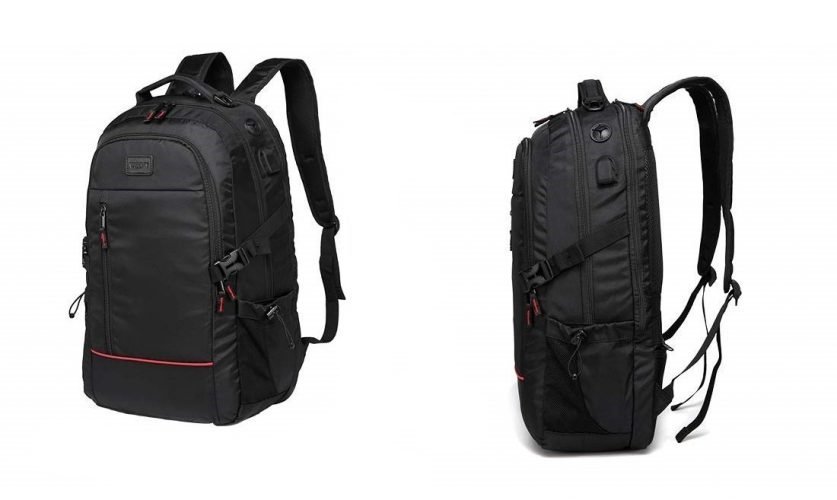 Interior
The first compartment is small in size and is best suited for quick access items such as keys, USB drives, student/access cards, etc. There are more sleeves and pouches within the compartment to hold stationary and business cards. It also has a key ring holder situated at the top of the compartment – which is detachable.
The second compartment, which is the main compartment of the backpack, is quite spacious. It can easily handle books, clothing, or even some groceries. The backpack includes a built-in USB charging port that you can attach to your phone and power bank. Two zippered sleeves are also enclosed in the main compartment to keep your items protected while you charge your phone. Additionally, there is also a headphone opening on the side of the compartment if you want to keep your iPod or phone inside the bag while you listen to music. This feature comes in handy while walking in the rain or a crowded area where you may bump into people and drop your device.
The third compartment is the laptop area of the backpack, which is also very roomy and expansive with additional pockets inside. A 17-inch laptop will fit comfortably and is supported by padding as well as a safety strap, to keep the laptop in place. There is also space above the laptop sleeve for A4 sized documents or thin books, allowing students and business individuals to have easy access to everything needed for class or the office in one compartment. The additional pockets provide more organization for business cards, passports, tickets or stationary, three in total with one being zippered.
Conclusion
If you are in the market for an inexpensive backpack that is simplistic in appearance but has an abundance of features, the Vaschy Laptop Backpack may be for you. Its three compartments provide plenty of space and make it a great option for anyone, be it a student or businessman on the go. The built-in USB charging port, the anti-theft buckles, and water resistant features are nice additions to the already comfortably padded backpack. Rest assured the build quality is well worth the asking price and is backed up by Vaschy's customer satisfaction guarantee.