Vera Bradley is a pioneering fashion brand inspired by the needs of real women. Among many exciting products like fragrance and accessories, Vera Bradley's backpack collection is indeed their top selling point. These backpacks are perfect for adults and children alike.
We carry nearly everything vital to our survival in our backpack – from larger items like a laptop, mobile phone or water bottle to smaller items like flash drives, earphones and pens. It's therefore beneficial to have decent sized compartments and pockets to store it all in. Needless to say, other bags (like sling bags, for example) will feel heavy very quickly and it can be dreadful for shoulders as well as your spinal health.
A backpack is a practical and perfect solution for your body that will assist in your day-to-day life. Countless hours of researching on the web and nagging your friends for an answer, finding the right backpack is a personal journey. We all have different needs when it comes to carrying stuff around. Some love stashing their favorite snacks and beverages, while others want to operate their tech and gadgets on the go! Every backpack tells a different story and one must carefully select the one that will go with their flow!
Vera Bradley offers beautiful, bright, and fun additions to your backpack collection. Are you attending a new school or working in a hotshot office? Vera Bradley backpacks for women are versatile and blend exquisitely with every woman's lifestyle. Available in over 25 different patterns and colors, you're guaranteed to find one that suits your unique style! Whether it be a classic plain gray, or a hot pink floral design.
See more: backpack purses for women.

Features:
12″ x 16″ x 7.5″
2.75″ handle drop
32″ adjustable straps
Larger front zip pocket with 3 slip pockets, 4 pen pockets and an ID window
2 exterior front zip pockets and 2 slide pockets
2 interior mesh slip pockets
trolley sleeve on quilted back panel.
Here's why Vera Bradley women's backpack is one of the most popular product in an affordable price range:
Iconic Design and Signature Vera Bradley Touch
The vibrancy of this bag is embedded in the striking quilted stitching sewn in tight formation – the iconic Vera Bradley Signature Diamond Stitch. It adds distinctive elements of embroidered appeal and gorgeous aesthetic charm. Vera Bradley thrives to deliver utmost quality and style. This backpack uses a special microfiber material, which is a synthetic blend of polyester and nylon. It enhances the structural integrity by adding durability and water-repellent features.
Ultra-Lightweight to Make Your Day Easier
The fabric of this Vera Bradley Women's backpack is ultra-lightweight and this cuts back the overall weight of the backpack when fully packed and plays easier on the shoulders. You can carry multiple books, your laptop, water bottles, and accessories without feeling the extra weight. Learning the right way to pack a backpack will further help to drop the extra pounds and allow you to enjoy a stress-free day.
Pockets for Supplies in Any Shape and Size
Your experience of a backpack can improve drastically if everything is compartmentalized. Whether you're carrying a pen or a tablet, if every item is placed in its assigned pocket, you can easily grab what you need with fewer chances of things getting lost. This backpack has two large compartments with smaller compartments inside them. You can also use this fabulous backpack for short trips and night stays. Stack your water bottles in one place and laptop in another, without going through the drama of mixing everything together.
Cushioned Laptop Compartment
Protecting the tech is very important when you travel. Whether you're just walking a few blocks to school or taking a train to work, laptops need protection within your backpack. This Vera Bradley backpack has a specialized slot for a laptop that is surrounded by cushioned fabric. If you bump into someone or drop your bag, the laptop will be fine – no minor heart attacks on losing your pricey gadget!
Water-Repellent for Rainy Commutes
One moment it's sunny and the next, heavy rain pours onto the street. Your backpack contains almost everything important to you and you're waiting for hours for the rain to stop! With this Vera Bradley Women's Backpack, you can walk straight into the rain without a care in the world. Made with a specially formulated fabric that is waterproof and won't let the moisture inside for a long period of time, it can withstand rain and occasional spills of water therefore keeping your essentials dry and unspoiled.
Large Space Capacity
One of the most crucial things Vera Bradley backpacks have is their surprisingly huge space capacity. In schools, colleges, workplaces, and even travels, one might need to carry multiple supplies, all at once. The large space capacity of this backpack will come in handy on many occasions. You can easily carry your everyday essentials and even an extra outfit for those fun nights out.
Wide Shoulder Straps for More Support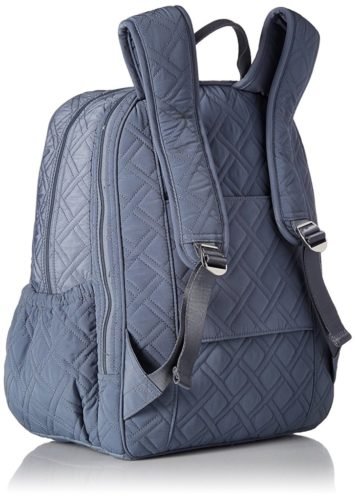 Earlier we talked about how a heavy backpack affects your shoulders. This Vera Bradley backpack is specially created keeping in mind the negative impacts of heavy lifting for long hours. The large space in this backpack is a great feature, but it also increases the weight. To carry these huge loads with ease, Vera Bradley created backpacks with wide shoulder straps. The greater width of these straps ensures that the weight is equally divided on a larger surface area. This reduces the manifestation of shoulder pains and even spinal injuries.
Machine Washable
Just like clothing, backpacks need to be regularly cleaned too. With everyday use, backpacks get worn out (plus we're are all prone to occasional food spills inside the backpacks too). Fear not – This Vera Bradley Women's Backpack is machine washable! So you no longer have to dread washing your backpack by hand, simply throw it in the washing machine and enjoy using a freshly washed backpack.
Conclusion
This Vera Bradley Women's Backpack is lightweight, durable, and comes with a great finish. It is soft to touch and made with a water repellent material that will safeguard your items under surprising weather. The unique structural design and multiple compartments make this an all-in-one solution for backpackers. With prolonged use of this backpack carrying a heavy load, the top strap may eventually tear loose. However, with caution and careful use, You'll definitely get a lot of wear out of this backpack. Get ready to keep your tunes following from the classroom to the airport with this amazing Vera Bradley backpack!
Summary
Reviewer
Review Date
Reviewed Item
Vera Bradley Women's Backpack
Author Rating