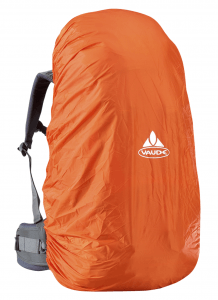 A waterproof backpack cover is made to help protect your hiking or camping gear from rainy downpours or from getting soaked during unexpected creek crossings or while trudging thru snow drifts.
If in the past you have relied on ponchos, tarps, or even large plastic trash bags to protect your backpack, then this article can help you learn more about using a waterproof backpack cover. A good waterproof backpack cover can ensure that all your future hiking and camping adventures remain fun, comfortable and dry.
How does it work?
A waterproof backpack cover is simply a big bag made of non-rip nylon. It has bungee or elastic cords that allow you to wrap it around your backpack and to provide a snug and dry seal. Some waterproof covers come in a one-size fits all, while others are sized in small, medium or large (usually in liters).
If you use multiple backpacks or think you may switch to a different pack sometime in the future, you may want to consider owning a universal size waterproof backpack cover. This way all you have to do is cinch it in tight to fit a smaller daypack or let it hang looser to fit a larger backpack.
Why do you need one?
No matter how good the construction or what it is made of a waterproof backpack will over time let in moisture. Even the folks who manufacture navy seal waterproof backpacks (sometimes called amphibious rucksacks) also sell different types of waterproof backpack covers for their products.
Faulty zippers, minuscule rips and tears, worn spots and seam stretch allow rain to seep into a backpack during a rainstorm. Seams are the worst offenders since over time the needle holes where the seams are stitched together loosen to create tiny gaps to let water in.
With a waterproof backpack cover, all your gear and foodstuffs are kept nice and dry. And you don't have to mess with a soaked backpack or wear damp clothes at the end of messy and dreary day of hiking.
Waterproof Backpack vs. Standard Pack with a Waterproof Backpack Cover?
Let's face it; everyone wants to save a buck or two. So, you get to thinking and wondering why you just can't get a regular backpack and a waterproof backpack cover instead of buying a more expensive waterproof backpack? Wouldn't the waterproof backpack cover keep your stuff high and dry in that old pack? Sure, if you want to stop and wrap up your pack every time you have a little drizzle or accidentally set you pack down on boggy ground.
You need "layers of protection". All navy seal waterproof backpacks have multiple "layers" to keep moisture away from valuable electronic and med gear. You should have the same thing, invest in a good, solid waterproof backpack (for dry-to mild moisture conditions) and then get a waterproof backpack cover (for those steady rains, blowing winds or snow).
You'll appreciate it, since you will be the only one with dry socks on around the campfire at night!