I was recently given a laptop for my birthday and have been searching for a suitable backpack in which to safely carry around my newest addition. My search was met with way too many results to choose from and in an attempt to reduce the number of options. Then I came across a Wenger backpack, specifically the Wenger GA 7305 14F00 SwissGear Computer Backpack. I was immediately drawn to it because of the manufacturer; the makers of the Swiss Army Knife. Certainly they have already built themselves a sterling reputation.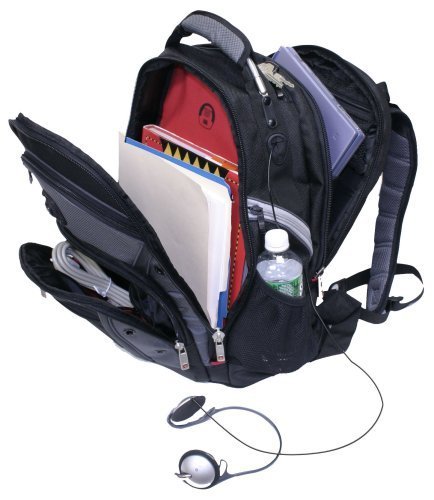 What To Look for When Buying a Backpack
A good quality backpack can be a great blessing. It does not only help you carry your stuff around easily but it also makes your everyday traveling fun and convenient. If the backpack you are buying is not comfortable or does not have enough space to carry your laptop and other accessories, you may have to carry a number of different bags while moving around. Therefore, if you think that price is the only thing worth looking while buying a backpack, then you need to think again. Here are some of the things that you must have a detailed look before you choose a backpack for yourself:
The number of pockets backpack has
The type of color choices available for it
The number of things you can stuff in it
Carrying handle or trolley strap
Will the back last long enough?
Still, it does not mean that price is not an important factor. Of course, your budget matters more than anything but sometimes it is a good idea to spend a little extra to get a better quality of product that can last for a longer period of time.
How many pockets?
Wenger computer backpack is the most suitable option for anyone who is looking for a bag that has a number of small and large pockets. There are separate pockets to put in your iPod, chargers, cardholders and other small things that you would like to carry with you on every day bases. In addition to this, there are a couple of outer pockets as well where you can put in food and drinks without worrying about spilling them all over your stuff.
The card holder pockets may seem a little tight and small as compared to many other backpacks yet they are good enough for you to put in the visiting cards, debit/credit cards and even your memory cards etc without losing them somewhere inside the back. Along with all this, there are some extra pockets on the inner side as well where you can keep your medicines or pills and can access them without any trouble.
What colors are available?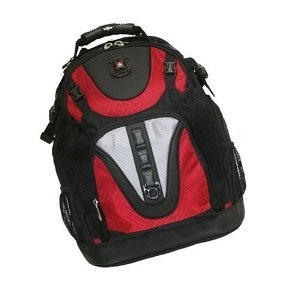 A major concern for most of the people is the fact that Wenger computer backpacks are available in limited colors and designs. Originally, there were only two colors i.e. red and silver. Many people were forced to choose red because lighter colors like silver get dirty very quickly. Now an option of navy blue and grey is also available for you to choose from. The colors on the bag are in light and dark shades to ensure that it does not look too dull or boring in appearance. However, if you are looking for a black or green colored bag or a contrast of two or more colors, then you might want to have a look at other backpack.
Choosing the Design
The design of Wenger computer backpack is pretty sleek. Considering the number of pockets this backpack has, the bag looks quite smart from the outside since the pockets do not bulge out unless you over stuff them with your things. Overall, the appearance of the bag is comparatively simple and not all that funky, it is suitable for a university going person or someone who likes to travel a lot.
How spacious?
Wenger backpacks are always known for being spacious and handy. However, as far as this particular computer backpack is concerned, many people have complained that their 15 inch screen laptops did not fit in perfectly and it was a little hassle to get the laptop out and put it back in the bag. However, it is mentioned on the bag that it has the capacity of a 15 to 15.4 inch laptop and the company has recently made a few adjustments, which might solve the problem for most of the people.
If you have a 12-inch or small laptop, then there is nothing to worry about. The bag has been divided into separate compartments to hold your laptop, mouse and the charger. The compartments are separated with soft padding to ensure that the laptop is not scratched when being put in or pulled out. However, there is no padding on the top covering, so in case your bag falls and rolls over a number of times, there are chances that your laptop might be a little damaged.
What kind of handling system?
Unlike a number of other computer backpacks, the Wenger backpack is different in the sense that it has double handling system i.e. along with a carrying handle, it is also equipped with a trolley tray thus making it easier for you to carry around and move. However, some people find a number of straps and belts to be annoying. Yet if you are amongst those people who have a number of things to put in your bag, a trolley tray can come in very handy. The shoulder straps of the bag are also pretty comfortable, so you can take off the hand carry and simply use the shoulders straps according to your ease and comfort.
How durable is it?
The overall rating and reviews reveal that the Wenger computer backpack may seem durable initially but with the passage of time, the bag stops standing on its own (usually after one and a half to two years). Therefore, you might have to handle it with a little more care if you are planning to keep in for more than two to three years. Overall, the Wenger computer backpack can be a good buy if you are a fan of simple yet stylish bags in comparatively reasonable price range.
What to Look For When Buying a Computer Backpack
If you are looking for a backpack that can be a good laptop holder as well, then the Wenger computer backpack can be a good option for you. It is not only good enough to carry most of your accessories but is also pretty reasonable in price. Here are some of the important features of the Wenger computer backpack and the reasons why you should make this choice:
During my research I found a few key points which should always be considered before spending your hard-earned money on the best computer backpack. These are:
A laptop pocket in which to fit your laptop
Strong and comfortable shoulder straps
Enough room and compartments
Safety for your laptop
I found that searching for a product based solely on price will not always yield the best results, and if you are serious about getting a top-quality product, rather look out for these qualities. Allow me to explain the relevance of these qualities in this specific Wenger backpack.
Video Review
One Size Fits All, Nearly
Since the primary function of this backpack is to house your laptop, of course you need to be sure that your laptop will fit comfortably; it is of no use if your laptop sticks out from the top of the bag, as you will not be able to fully zip it closed. The Wenger backpack fits most 15.4″ widescreens, which should be more than sufficient, as consumers say that their 16″ screens fit comfortably as well.
Carry with Comfort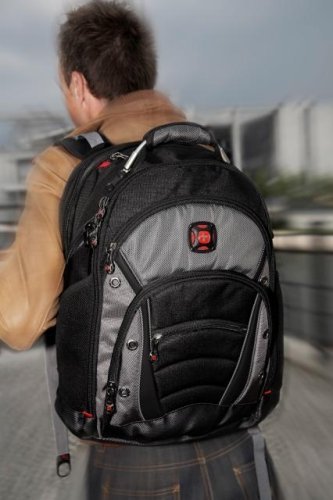 The Wenger backpack sports Comfort Fit back straps, which means that they are wider than the average back strap, and they are also padded enough to ensure that the straps do not cut into your shoulders when your bag is full. They are also shock absorbent, thereby distributing the weight evenly on your back and ensuring comfort.
Another wonderful little comfort feature is the Air-Flow Back padding which will keep your back cool on hot days, as we all know how embarrassing it can be to remove your backpack, only to reveal a large sweat patch on your back.
Compartmentalize Your Belongings
A computer backpack cannot simply hold just your laptop, because with a laptop comes many accessories such as your charger, USBs, an external hard drive perhaps, and even books and stationery. The SwissGear computer backpack has an Essentials Organizer in the front pocket which has pockets and slots for all your gadgets, which makes it extremely easy to keep everything neat and in order. In addition to this is a Quick Pocket with a place for your iPod or MP3 player and a headset port, so your music player will be safely tucked in your bag while the headset can reach your ears. There is also ample room for your textbooks if you are a scholar or if you are planning on using this for work purposes. The netted side pockets are also useful for less valuable items such as a water bottle.
Safety, Security and Durability
There is no point in purchasing a bag for your laptop if it is not going to keep it safe, and this is where this bag excels. The computer pocket is padded so that your laptop fits in snugly, and this cushioning will protect it if you accidentally drop your Wenger backpack.
Another safety feature that is absolutely essential in a computer backpack is that the bottom must be reinforced for when you set your bag down. Here, SwissGear makes use of a CaseBase Stabilizing Platform, which should keep all your belongings upright and in place when your bag is no longer on your back. The material used on the bottom is also extra durable so that it doesn't suffer early wear-and-tear.
The materials used throughout the entire bag are nylon and polyester; polyester is a hydrophobic fabric which means that it will not absorb water quite as quickly, and nylon is known for being light, strong and durable. These high quality materials and strong, durable stitching and sewing will ensure a long lifespan.
Wenger Backpack Warranty?
Each Wenger backpack carries a lifetime guarantee against defects in materials and workmanship for all their products. Should you encounter any such defects, you can simply send your proof to Wenger, and they will either replace or repair it for you.
What Others Have to Say
These are some of the positive comments:
"This is the nicest computer backpack I've found so far…"
"I've owned this backpack for at least 6+ years….I find absolutely no damage to it."
"The ergonomics of this bag are outstanding …"
"Very nice backpack, made of quality materials and manufactured with very good craftsmanship."
"Great product at a very good price."
Any Negatives?
I did not come across many negative reviews for this backpack, although one consumer did mention that the backpack is heavy and bulky. Since the bag is designed to allow for ample room for all your items, once filled to capacity, it may be heavy, but that is dependent on what you are filling it with. As for bulky, well, another consumer commented that for such a large bag with so much storage space, it actually seems rather sleek.
Where to Buy this SwissGear Computer Backpack
This can be purchased online from the Wenger website, however look out for the additional sales tax and shipping fees which are not included in the initial price. The website will also provide you with information about a retailer near you. Alternatively, you can order this from Amazon, which seems to be the best deal, especially since shipping is free.
Read More Wenger Backpack Reviews for Extra Information
Amazon is a great source of information since there are many reviews for you to read from people who use or have used this Wenger GA 7305 14F00 SwissGear Computer Backpack. So if you are still uncertain, these may help sway your decision.